M

egan Fox tattoos
have created a buzz throughout the internet, Hollywood and fashion world. Some people love them and others hate them, especially the tribal tattoo. A lot of the spite is attributed to several factors, two of which are definitely envy and close mindedness. We think they're awesome because they are creative, hot and simply look great on her. She has eight or nine tattoos that range from a Marilyn Monroe tattoo to a the tribal tattoo i mentioned earlier. But if her public comments are any indication then I guess we can expect a few more. Unfortunately though, she has only revealed seven to the public but hopefully with time her fans we'll get to see the remaining one or two as well.
The seven
megan fox tattoos
that we've seen so far vary greatly in style. There are two that are textual and were designed using
Old English font
, with a mix of Gothic German. These two tattoos along with Marilyn Monroe's portrait on her arm are the ones that stand out the most. She also has a tribal symbol on her left arm and a
star and crescent tattoo
on top of her ankle. And how could we forget the cursive letter
Brian tattoo
that is slightly south of her waist. Tattoos mean a great deal to
Megan Fox
, so much in fact that she promised to give up Hollywood altogether if she ever lost a role because of them. They have become a part of her and transcend mere vanity body art. So they're no simply body art, she gets them for a reason and many times that pertains to her mindset and what she's feeling at that moment in time.
The following tattoo reads:
We will all laugh at gilded butterflies
, and is located on her back, behind the right shoulder. The font used to design this awesome tattoo is an Old English font but the letter A is actually Gothic, probably medieval German. It looks very cool but unfortunately many people don't even notice how the A differs in this here. I wish we knew the reason why the A's are different from the rest of the letters. I guess writers and interviewers are too busy staring at her warez than to notice the difference between the A's in the rib tattoo and this one. The quote is adapted from a Shakespeare's piece called King Lear. When Megan was asked what it meant, she replied " to not get too caught up in Hollywood because people will end up laughing at you." I think she has Hollywood figured out!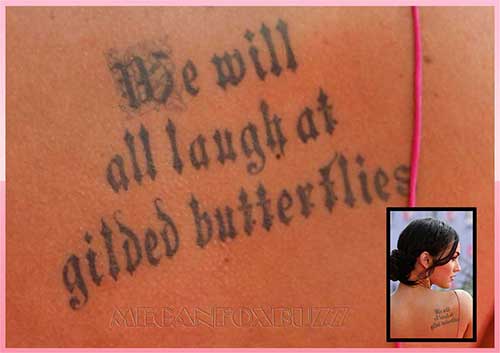 T
he second textually prominent tattoo is located on her left ribcage. This one was also created using the Old English font too. However, unlike the previous tattoo that came from a Shakespearian King Lear quote, this is a poem written by herself spreads on all her left ribs. This creative design and location is a work of art. Tattooing such content which is all about love on the ribcage is very attractive and sensual to say the least. The placement fits her body perfectly, especially given her slender physique. We hear that this rib tattoo was painful but Megan said she enjoyed every minute of it, and likened it to pulling out a tooth. The text on it is self explanatory and reads:
there once wasa littlegirl whonever knewlove untila boybroke herHEART
O
n her right inner forearm there is a beautiful
tattoo of Marilyn Monroe
. Her feelings for Maryilyn Monroe is well known and she probably knows more about her idol than anybody else, especially after having read Barbara Leaming's 464 page long Marilyn Monroe biography. Emotions and feelings are definitely involved here as Megan Fox is very empathetic towards her idol. This bond began when Megan Fox was a little child and recalls crying every time she heard Marilyn Monroe on TV.
Look closely and enjoy the work of this body art, this is the favorite of all Megan Fox tattoos for many of her fans. It's really exceptional and not only that, it also has that very cool sixties thing going for kit. I mean when Megan Fox is wearing a Marilyn Monroe-esque dress and the Marilyn tattoo is flashing, it's just an incredible scene of beauty and fashion.
C
rescent/Moon and Star tattoos and their meanings vary and are relative to the individual. What do they mean to Megan Fox? I really don't know but she has a lifetime to tell all her fans. Maybe she loves the night, the skylight and its mystic grandeur. Which romantic wouldn't? Maybe she's related to Selene the Moon Goddess and that wouldn't be far fetched, considering she's a goddess in her own right. One thing I am 100% certain of is that this
Megan Fox tattoo
is strategically located. There is something about tattoos near joints that make them very attractive and the Crescent and Star above Megan Fox inner left ankle is no exception . This Star and Moon tattoo oozes style and works great for her, especially when she's doing her thing on the Red Carpet in hot Christian Louboutin pumps.
R
ight on the center of the back of her neck there's a symbol of strength tattooed in Chinese calligraphy. This is Megan Fox's first tattoo and receives the least amount of attention because her hair is always covering it. It's there though and she really needs the strength and inspiration it gives off. Hollywood is her business after all, and being the hottest woman alive, in addition to being the Transformers star, calls for spiritual strength from the critics. She opted to get this little tatt first because she's shy and hesitant, and for these reasons, selected a location that is pretty hidden from public view.
M
egan Fox loves the ocean. It's special to her, it gives her peace of mind, and she also likes to surf. So she decided to get a cool tribal tattoo with two waves to show her affection for the seas. Thing is the dude who tattooed this particular tribal tattoo was a little off that night. He was as she put it, 'not all there'. So the tribal tattoo didn't come out exactly like she wanted and rumor has it, she's planning on removing it. I think many fans will miss the Megan Fox tattoo because it came to symbolize her imperfect and rebellious nature. She makes the tattoos hot and not the other way around, so it would be cool if she kept it.
I
n 2005 Megan Fox revealed to world through FHM Magazine just how much she's into her fiancée and then boyfriend Brian Austin Green. She did what most men wish their girlfriends would do. She supplanted her boyfriend's name by way of cursive text tattoo near what she calls her "pie". She was asked what would she do if she and Brian ever broke up. She replied that she'll keep it because she can always name a child Brian.
Hopefully this Megan Fox tattoo page will have something to add in 2009, Megan did mention that she intends to sleeve an entire arm and that would make her totally off the hook.
A certain magazine photoshopped a Transformers autobot tattoo on their cover and it wasn't worth it to add that fake Megan Fox tattoo to the ones she really has. So if you hear some nonsense about a Megan Fox transformers tattoo, just know it was a stupid hoax.